PRUDDEN TECH CENTER
Lease or Own Today!
Prudden Tech Center
The famous single smoke stack that dots Lansing's north side is home to the area's largest urban redevelopment. This converted wheel manufacturing company now houses one-of-a-kind commercial spaces that are available for customization. 
The redevelopment of this property has been a cornerstone for the Lansing community since its inception. With the tenancy of high profile corporations, Summit Street Development has enjoyed all the benefits that redevelopment projects have to offer.
CURRENT TENANTS
An international engineering and architectural firm, C2AE is truly a leader in the Lansing region, providing high quality design work for municipal, state, and private clients.  C2AE is also a leader in civic engagement in the Lansing region, activity participating in and supporting the City of Lansing, the Lansing Regional Chamber of Commerce and other fine organizations.
H Inc. is a one-of-a-kind development organization that specializes in the adaptive reuse and rehabilitation of historic architecture. Established in 1989, H Inc. has grown to become an influential firm based in Michigan's Capital City of Lansing. H Inc. has rehabbed over 500,000 square feet of space in downtown, creating unique, luxury commercial and residential spaces. H Inc. works to stay on the cutting edge of development including the use of green materials and distinctive design.
NEW – Single Office Spaces at the PTC
New to the Prudden Tech Centre, lease single office spaces with short-term, flexible lease options available. Take your business out of the basement and into high-tech, urban-chic office spaces with common area amenities including: reservable executive conference room, catering kitchen, kitchenette break area, included utilities and internet. Contact us at 517-482-9911 today for more information.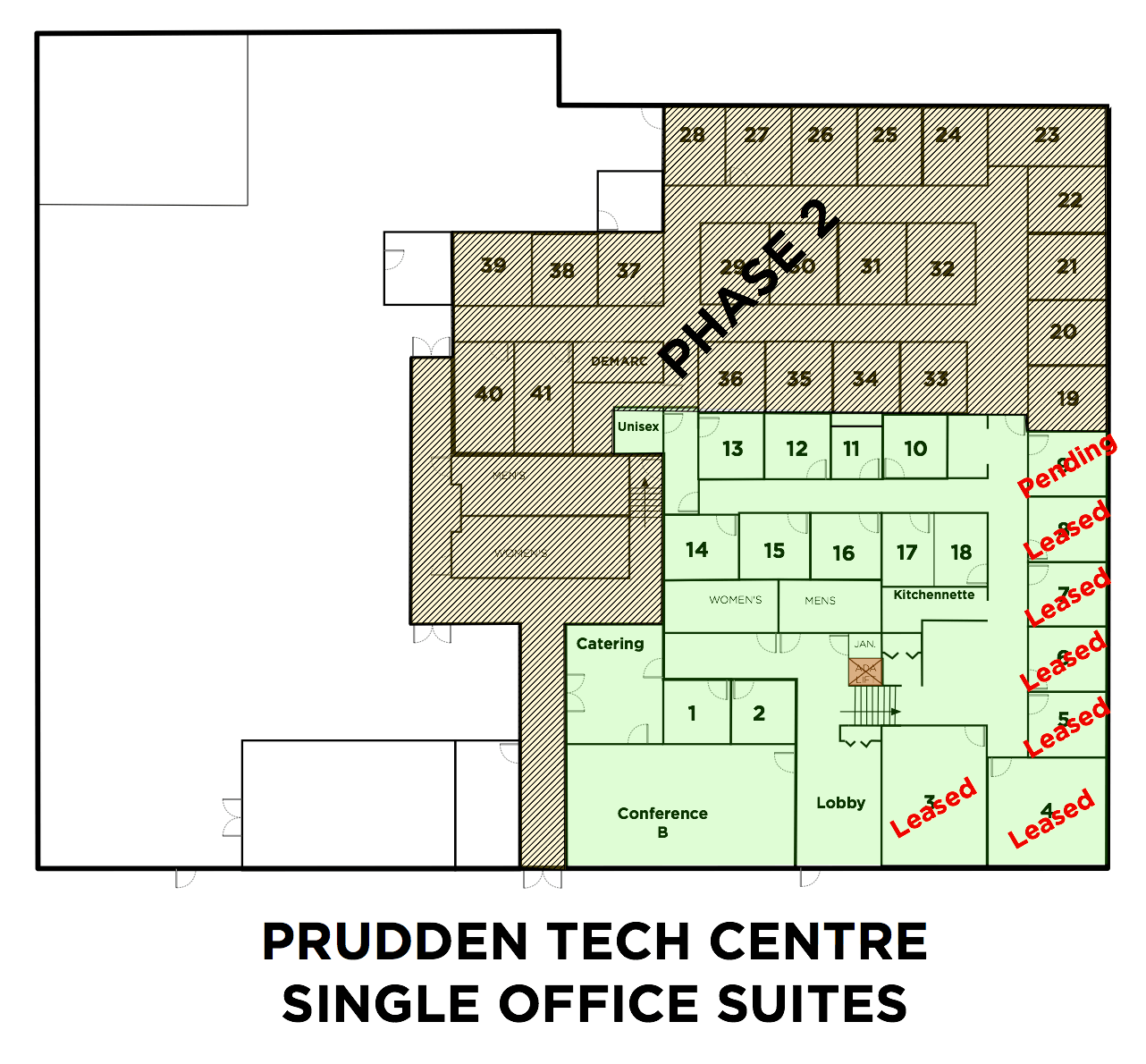 Refrences
Get to know H Inc. a little better, view reference letters from tenants:

My colleagues and I look forward to continuing to work with the H Inc. team well into the future, and I am confident we made the right decision to locate at the Prudden Tech Centre. – Rochelle Jensen, Human Arc
Full Reference from Human Arc

H Inc.'s staff is courteous and thorough… I am happy to give H, Inc. and 212 East Grand River my unqualified recommendation. -Lori Smith, Clark Hill
Full Reference from Clark Hill

As a team, H Inc. and Summit Street have demonstrated their dedication and commitment to their tenants and continue to do so, on a daily basis. I am pleased to have had the opportunity to work with both H Incorporated and Summit Street Development Co. LLC. -Captain Ray Hall, City of Lansing
Full Reference from the Lansing Police Department

For five years H-lnc provided us with property management services for Summit Street Development where ACS State & Local Solutions operated the Michigan State Disbursement Unit. The facility at 700 May Street was brought to full functionality in a timely manner and the ongoing maintenance was never less than what was expected. Should ACS State and Local Solutions future endeavors in the Lansing area call for Commercial Real Estate, we will look to H lnc. again as a potential provider of our needs.
Full Reference from ACS State and Local Solutions
History 
1916 – Prudden Wheel Company, headed by William K. Prudden, undertook its greatest endeavor to date: the construction of a three-story factory and administrative building that would become the hub of Prudden's wheel manufacturing company. 
1996 – Harry Hepler purchased the Prudden Motor Wheel Builder and foresaw the 20-acre Prudden area as a redevelopment success that would give the property and downtown Lansing a major face-lift.
2000 – The additional space offered 80,000 square feet of commercial office space, 25,000 of which were leased to Lockheed Martin/ACS State and Local Solutions.
Today – The 120,000 square foot area is known as Summit Street Development, owned and operated under the management of Summit Street Development LLC and H Inc.